Dear Attorney General Andrew Cuomo,
I hear you are
mad as a wet hen
. Me too.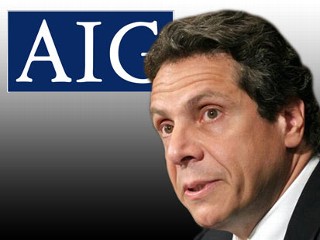 AIG has been playing,
Who Wants to Be a Millionaire
again. And this time 73 of the folks who helped create the worst financial crisis in modern economic history, won the big prize.
Thank you for revealing the following information about the AIG bonuses.
The top recipient received more than $6.4 million;

The top seven bonus recipients received more than $4 million each;

The top ten bonus recipients received a combined $42 million;

22 individuals received bonuses of $2 million or more, and combined they
received more than $72 million;

73 individuals received bonuses of $1 million or more; and

Eleven of the individuals who received "retention" bonuses of $1 million
or more are no longer working at AIG, including one who received $4.6
million;

These payments were all made to individuals in the subsidiary whose performance led to losses causing the near failure of AIG. Therefore, what we are seeing is that the individuals who lost so much money that it brought the firm to the edge of bankruptcy, forcing a taxpayer bailout, are the very people who are receiving bonuses. Something smells fishy, doesn't it.
The contracts under which AIG decided to make these payments contain a provision that required most individuals' bonuses to be 100% of their 2007 bonuses. That means that last Spring when AIG identified the coming crash, they locked in bonuses for 2008 at 2007 levels knowing that their real performance would be disastrous in comparison to the year before.
I've heard that you are taking a hard look at all this. Does that mean that you, like me, think that all of this sounds, well, criminal?
Some
writers from the Huffington Post
suggest this solution.
The trustees need to split off the derivatives unit from the rest of the firm and separately incorporate it. This step leaves AIG's other businesses free to operate as usual. If the recipients of the bonuses refuse to waive them, then the derivatives unit should at once be thrown into bankruptcy, terminating all obligations to pay them. Right now, press reports suggest that the firm's top management waited until the last minute to inform the government of what was happening. AIG CEO Edward Liddy, accordingly, should be asked to resign at once, for the sake of public confidence and to send a clear signal that gaming the system is unacceptable.
Barney Frank seems to think some strong tactics should be used to call a halt to this too.
Well, thanks for working on this problem. I hear that
President Obama
has your back.
BRD